What June hopes to offer people is evidence. And while readings can be extremely emotional, they can also be light-hearted.It's rare June, who is also a karate expert, is unable to 'make a connection' with someone, but this happened once, at an event in Fraserburgh.
"I told her I couldn't make a connection and gave her a refund. A year later, I heard she had died."
June, however, has a strong sense of responsibility: she won't tune into negative energy or reveal bad tidings, believing this unethical.On a more uplifting note, June was able to tell singer Jane McDonald she'd be returning to work for Channel 5 – when she had no plan to do so. And of course, that's what happened.
Dundee psychic medium with celebrity pals
She's pals with Hugh Grant, and was invited to his birthday party earlier this month."I've read for many celebrities, politicians and members of the royal family," June says."It's a privilege, but people are just people, at the end of the day."She also works as a spiritual healer, and in 2020 sent healing energy to Linda Lusardi, who was severely unwell with Covid-19.According to her husband, June pulled Linda "back from the brink". She also helped "turn around" Kate Garraway's husband, Derek.
"A girl had come for a reading and I tried to get into her energy but if buffeted back," she recalls.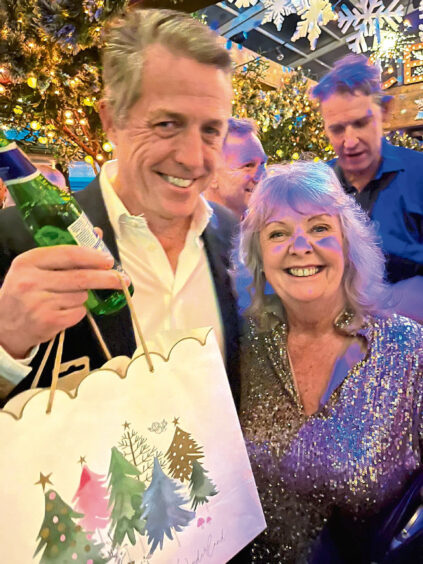 June was invited to Hugh Grant's birthday party.
In Ukraine, she helped solve a murder, working with police, describing the killer's tattoo, scar and car.Nine months later he was caught, and a story featured in the Sunday Post, headlined: "Our psychic snares serial killer"
I've read for many celebrities, politicians and members of the royal family. It's a privilege, but people are just people, at the end of the day."Of course June, who was widowed in 2012, is no stranger to those who think what she does is a load of mumbo jumbo… and she takes great satisfaction in changing their minds.
June and Judy Murray
One man, who'd been "dragged along" to a demo in Fife, was full of cynicism as she approached."I told him he'd broken his pinkie and that there was a lady in the room telling me he'd lost half his nipple to cancer."I was able to reassure him he wouldn't lose the other half. The look on his face! It certainly made him think."
With hundreds of people at demos, how does June choose who to tune into?"I go for the loudest (spirit) voice. And I pride myself on being specific. But like I say, it can be light-hearted AND evidential."I was able to tell someone I had a man with a flowery shirt feeding a parrot off a teaspoon. That got a laugh, but it also meant something."She believes we are spirit people housed in physical bodies, and, as a medium, she heightens her vibrations while spirits lower theirs – and they meet in the middle. Hence the name 'medium'.
June admits clairvoyance isn't everybody's cup of tea, adding: "I'd never force this on everyone. But people don't often come to me until they've lost someone and they're grieving. They're looking for answers. "Her events raise money for charity and private readings take place face-to-face or via Zoom."I can get into somebody through photos or online," she smiles."This is just the way I was born. We all have the aptitude to tune into channels but perhaps I'm more sensitive."
June's events are usually sell-outs but check out her website,
junefieldmedium.com
, for ones coming up.